Our SEO Services
Here at SERP Boost, we offer On-Page, Off-Page and Local SEO services in our packages, but what exactly are they? Well, without going into the minutiae of it all, prepare for a crash course in basic SEO…
On-Page SEO
Also known as Natural or Organic SEO, this is used to optimize the on-page aspects of your website. This includes but isn't limited to:
Title tags
Meta descriptions
Headers and header structure
On-page copy
Alt Tags
URL structure
Internal & external links
User experience
As many of these are primary ranking factors on Google, Bing, Yahoo, etc., the first stages of your SEO plan will likely be devoted to improving them and giving you the best possible base for improving your standing with the search engines.
Link Building
Another crucial aspect of any SEO campaign is the building of your backlink profile.
Simply put, this shows which sites have linked back to yours, and it is strongly held belief among SEOs that there is a causal relationship between the amount of good quality inbound links pointing to a site and its rankings.
There are many Google-friendly ways of obtaining links, and while not every technique which be suitable for your site, we will leave no stone unturned and always use 'white hat' methods.
Local SEO
The ultimate aim of Local SEO is to move your website into Google's '3-pack'. This shows up before the organic search results so is clearly a valuable piece of search engine real estate.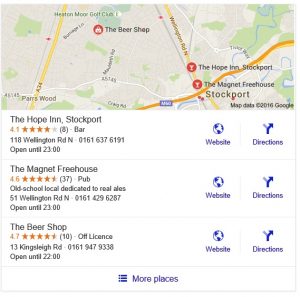 In order to help you rank higher for a local search, our first port of call will be to embark on a citations campaign.
This involves submitting your company details to various business and high-quality niche directories, making sure that your NAP (Name, Address, Phone Number) are all accurate and tally with what is on your website. It's a relatively simple task which won't move the needle too much, but it's a foundational element to build upon.
We will also set up a Google My Business (GMB) page on your behalf if you don't already have one, as well as set up and populate any social media accounts which your business doesn't currently have, including Twitter, Pinterest and Tumblr.
Landing Pages
Linked to both On-Page and Local SEO, landing pages can be built if you have a business which serves multiple locations, or has a number of different specialisations.
For instance, if you run a mobile dog grooming service in Manchester which isn't ranking particularly well at the moment, it may be tempting to try to primarily rank higher for 'dog grooming in Manchester'.
However, as Manchester is large city and competition will be plentiful, it may be wise to try to dominate the suburbs you cover instead, ie 'dog grooming Levenshulme/Didsbury/Openshaw', with your rankings for Manchester naturally increasing as your site becomes more popular.
Similarly, if you are a financial advisor, rather than putting all your eggs in one basket, it makes sense to have separate content for each of your mortgage, life assurance and home insurance services which will make ranking for them much easier and increase your online visibility.